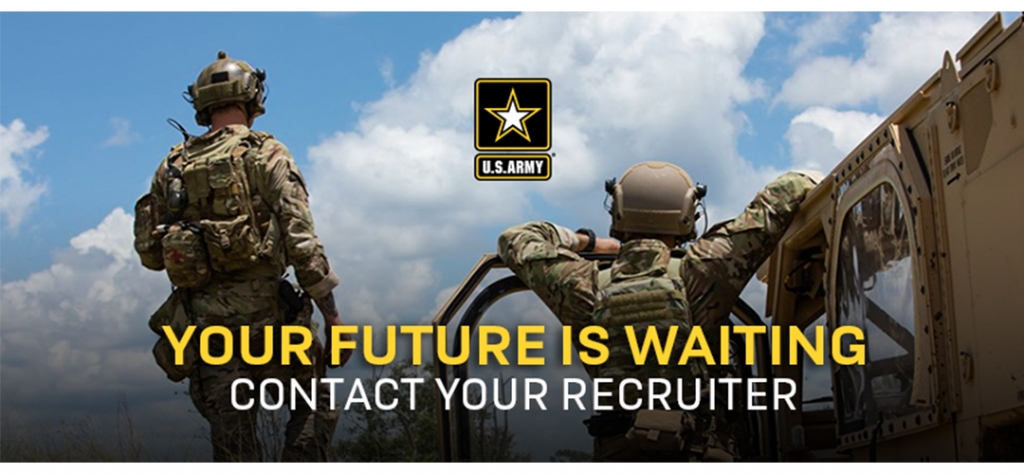 Please ensure you meet the Basic Qualifications (see below) prior to applying.
For the FASTEST response apply with us directly here:
As a part of a team of Soldiers, you secure your future with a career in the Active Duty US Army (Full time), pay for college, and guaranteed healthcare with family benefits. You gain leadership skills, college credit, and job-security.
This is an entry level position with no experience necessary.
Position Responsibilities:
Attend Basic Training (10 Weeks) and Advanced Training with pay.
Complete the Armed Services Vocational Aptitude Battery (ASVAB)

Basic Qualifications:
Education – Current Senior in High School (HS), HS Diploma, GED or higher.
Citizenship – U.S. Citizen/Permanent Resident.
Submit to a background and medical screening.

Benefits:
Up to $40K bonus.
Up to $115,000 for additional education benefits.
30 days vacation with pay per year.
Additional living expenses for those who have dependents.
Work locations include all 50 states.
When you are interested in finding out more about this position, please apply now at https://www.goarmy.com/info.html?iom=ARFE&mn= and within 24-48 hours, you will receive an email/text from our interviewer to schedule a call. If you would like to reach out directly to one of our team members please call (386) 672-1603.